With all the clothing construction going on around here lately, I've really been missing quilting. And while I have 2 quilts that need to be basted, I decided to join in on the Summer Sampler Quilt-along hosted by 3 awesome bloggers: Faith from
Fresh Lemons Quilts
, Lee from
Freshly Pieced
and Kate from
Swim, Bike, Quilt
!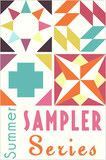 It's a simple sampler featuring 12 traditional blocks. They'll each be doing one block a week, so we only have to do 3 blocks a week. Haha, I say only have to do 3 a week as we get ready to go to the beach for a whole week. I'll be behind in week 2!! But I like the opportunity to tackle some traditional blocks and some paper piecing that I wouldn't otherwise.
I'm using a Make Life layer cake I had with some solids and other scraps thrown in, as I'm seriously trying to make a dent in my fabric stash (so I can buy all new fabrics, but whatever...) Kate gave the first tutorial yesterday for the Star of Virginia block, which is ironic, because a couple of weeks ago I bought fabric to make a quilt for Oren with this design even though I've never made it.
***One of my first posts was about the quilt I made for Emma's 5th birthday, so I'm making one for Oren too. Emma didn't get hers until after she turned 6, so I'm not at all feeling bad that Oren turned 5 in March! :)
And back on subject...here's my block. Well, actually blocks. This was seriously so easy that it took me like 15 minutes to make 2. Plus, I got a little trim happy on the first one, so now I'm covered if that one's a little small. I decided not to trim up the second one tonight... I thought I might make 2 of some of the blocks so that I can widen and lengthen the quilt. Chris is always saying how lap quilts aren't long enough for tall guys like him. Sorry about the picture quality here...it's been a long day, so I just threw them on my sewing countertop and snapped...the finished thing will be MUCH better! :)
If I had it to do over again, I would definetely add some contrast to the 2nd block. I didn't realize how light it all was till I was done. I already had the white cut so I went with it. Oh well...they'll all work together in the end I hope.
This was fun...can't wait to see what block tomorrow holds. Although tomorrow is our anniversary, so I don't know how much sewing I'll be doing. We're dropping the kids off with Grandma and spending the day out on the town. :)