Yep...another Wednesday is here so I'm talking about my Works In Progress today. Since last week I've made progress on my Summer Sampler Series quilt, slow progress, but progress. I've also got two dresses cut out for my cousin. She asked me to donate something to an auction to aid an adoption organization she worked with, and I'm glad to help out. I'm also workong on a lunchbox for Emma for school this year. It's not like me to have so many projects at one time. I usually like to focus on one thing, so I at least come closer to finishing it. ;)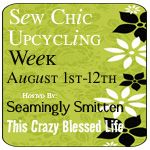 Completed this week
: My project for
Jenny's
Refashion week. I'm actually the featured poster today--go check it out! I'll wait...................
Okay, what did you think??
In Progress:
--Summer Sampler Series Quilt (I'm on Block 8 of 12). Here are my Arkansas Traveler blocks and all of my blocks together. So far, so good!!
--Dresses for the auction--I'm going with a simple jumper pattern with a straight bodice and gathered skirt. I figured a jumper is always cute on a little girl and since they live in the midwest, they could wear it through the fall and winter with a long-sleeved shirt underneath. Here are my fabrics. The dresses are cut out and will be finished up tonight (hopefully!!!!)
--Lunchbox for Emma--Last year I followed a pattern for a lunchbox for Em, which she loved. Only problem...it was too small. We had to be judicious in fitting in all of her lunch each day. I'm making my own pattern this year which I've got drawn out and I THINK we're in agreement on fabric, so this will hopefully be done by next week. School starts in 2 weeks, so this one's got a deadline!
Tops Needing Quilting/Untouched (for some time...):
--"Sent with Love" postage stamp quilt. It look so sad peeking out of my WIP basket knowing it's not far from being done and just needs a little love.
--Mosaic Swap quilt. Actually, I think this one needs one more row sewn on before I can quilt it. But I haven't touched it in like 2 months, so I'm not sure on that one. ;)
--Fall Pops quilt. This one goes back before blogging... Oops!
And that's it for this week! I'm so excited and thankful to Jenny for featuring me on her
blog
this week. Really, check it out, because for two weeks, she and
Sarah
are featuring all kinds of great repurpose, refashion ideas. And go check out Lee's
WIP linkup
for all of the great projects in progress!