Small Town Stitcher is a year old today!! I can't believe it. Blogging really is so much fun. I've learned so much and enjoyed making new friends in this wonderful online community in the past 12 months. What I love most is the encouragement to keep on keeping on. If I didn't have my blog and blog-friends, I know for a fact I wouldn't get as much done. But knowing that I have to have something to post about and knowing that it will only happen if I make one of the million cool ideas I've found online or thought up a reality is what keeps me going.
a sample of the projects I made in the last year that are documented on this blog
I want to thank everybody who has supported me this year and read this blog and left comments. I want to thank the other bloggers out there who support each other with linkup parties, quilt-alongs, sew-alongs, and tutorials. I am so glad to have found this place where I can be creative and inspired. :)
So...to thank everyone with more than just words, I've got a GIVEAWAY for y'all! But, I actually decided to do two giveaways. I love y'all that much!! That and the fact that I HATE having to jump through hoops to enter a giveaway. I don't want to sign up to follow someone's blog just to win something if I wouldn't follow it anyway. I don't do twitter and I hate clogging up my facebook to the point that I don't see my actual friends' posts. Please understand, I'm not trying to be negative or say that I think people who require all of those things are wrong. I think to each his own, and if it works for you, go for it. But I have limited time online between my dialup connection and everything I do all day. AND...I'm easily distracted, so I don't need anything else to use as an excuse for not getting the housework done!
BUT....I wanted to reward those of you who click the follow button and keep up with me. It means a lot with all of the blogs out there that you want to read what I have to say. When I started this blog I said I'd be happy to get to 25 readers. And I'm up to 78!! Wow! It means so much to me when you out there take the time to press the follow button and even more when you leave a comment. It's less of me talking to myself and the lonely internet, and more of a conversation between friends, right?
So, I decided to have 2 giveaways! Giveaway 1 will be for non-hoop-jumpers like myself. All you gotta do is leave a comment. Giveaway 2 will be to reward followers, old and new. So, enough chatter, let's get to the fun, right???
GIVEAWAY 1:
This one is for a charm pack of
It's a Hoot by Momo
from Moda. I LOVE this line and bought the charm pack awhile back, but haven't used it yet and I always think if you want to keep it, it's a good gift! Just leave a comment at the end of this post. But...let's make it interesting. Leave me a comment on what your favorite fall dessert is. I LOVE sweets, so lay some new goodies on me!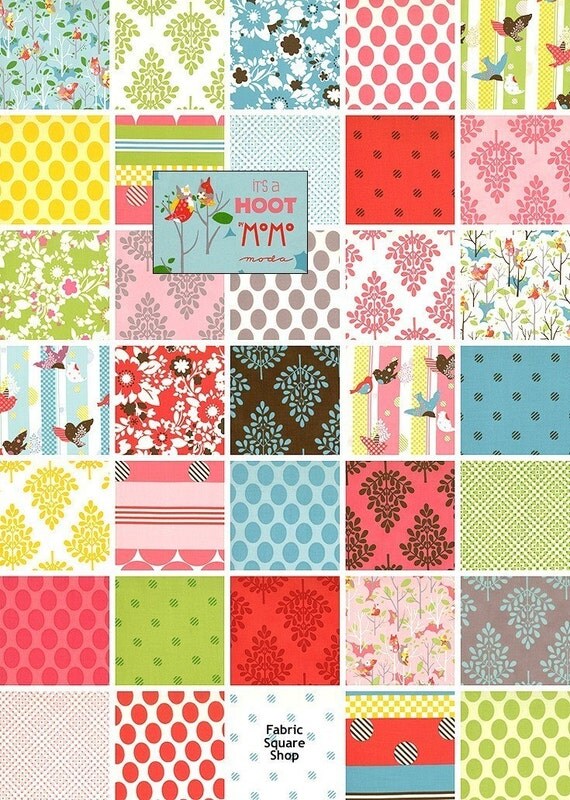 GIVEAWAY 2
This prize is a $25 giveaway to
Connecting Thread
s! Have you shopped there? I love it because their prices are reasonable and they are coming out with more and more cute fabric all the time. Plus, they just had a fabric design contest that we're still crossing our fingers for
Lee
to win, so there'll be even more cute designs before long! I've used both fabric and thread from them, and both were high quality. Plus, I love that you can load up your cart a little more there with $25 since their prices are lower. No, there's no Moda or other famous designers, but the fabrics are great and there's something for everyone.
This giveaway is to reward my faithful followers, so to enter this one, just leave me a comment telling me you follow and you're all set.
So, one more time through the details and we're ready to play...Giveaway 1 requires a simple comment telling me your favorite fall dessert and you're entered to win the
It's a Hoot
charm pack. Giveaway 2 requires you to be a follower (new or old) and leave a comment saying you are and you're entered to win the $25 gift certficate. You can enter both giveaways, of course!! And I'll close the giveaway one week from today, so you've got till noon (EST) on October 10 to enter!! I'll let the random number generator (or my husband) choose, but I promise everyone's got an equal shot! And no one is sponsoring this giveaway other than me. All prizes are courtesy of me and my choice in giving. Now, if someone wants to start sponsoring giveaways on this blog, I'm all for sharing the goodies with you...
Thanks again for being here and going on this journey with me. I can't wait to see where Year 2 takes us!